OVERVIEW
From Tokyo Station, it takes less than 30 minutes to reach Matsudo, and from Matsudo Station you can easily reach either Haneda or Narita airport. Matsudo sits right next to Tokyo, but Matsudo has the relaxing landscapes that you wouldn't be able to easily find in a bustling city. Here, you can find lovely history, nature, art and food – there is something exciting for any visitor! Between Matsudo's new and historical cultures, you can't get bored!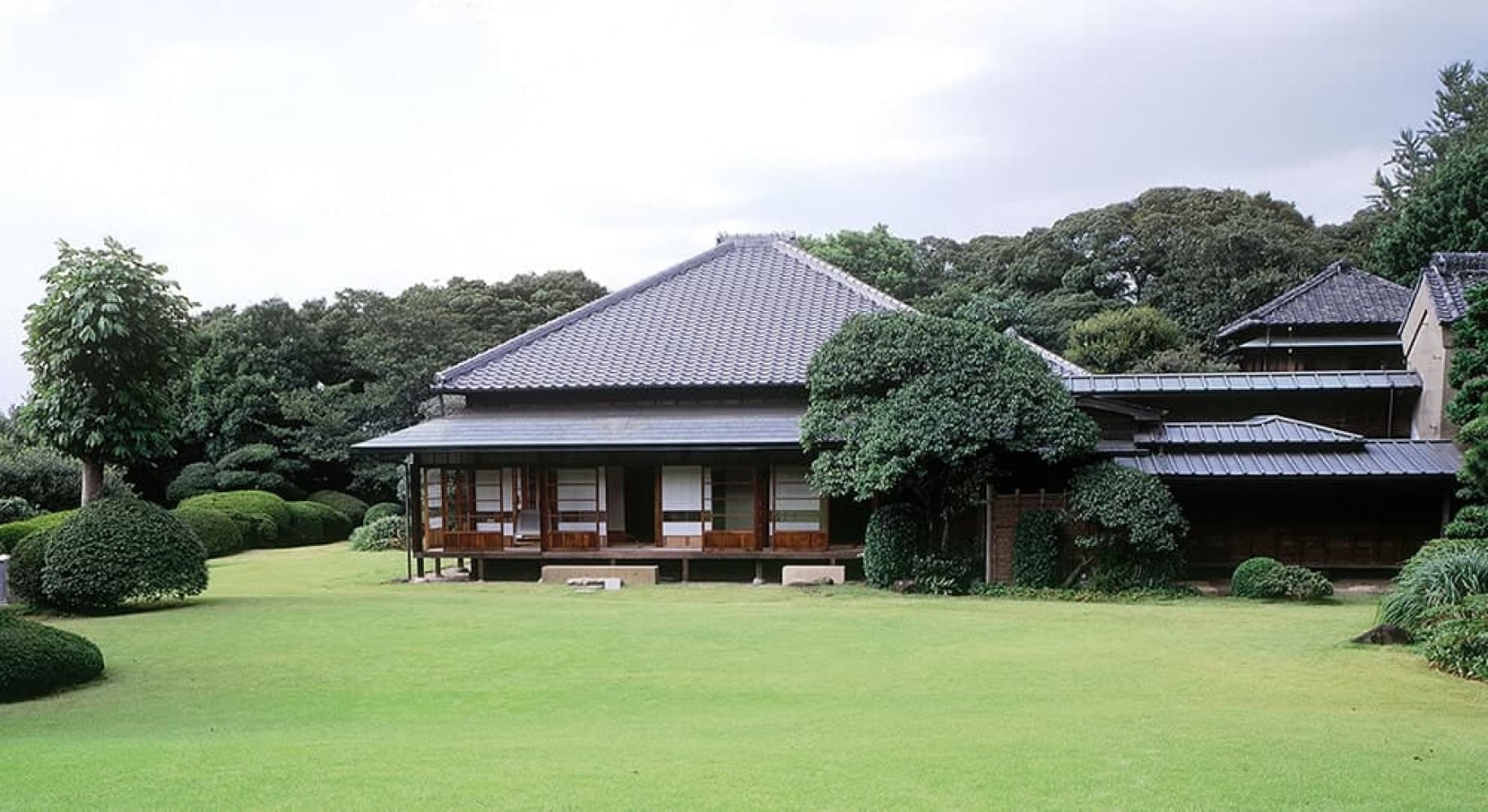 Tojo-tei House. The house was built in 1884.
HISTORY
Matsudo developed as a post-town in the Edo era. The town was filled with many Hatago-ya (old Japanese style hotels), and some stories claim that several historical famous people stayed a night or two as well.
Nowadays, while there aren't as many hotels in Matsudo, there are still some old-style houses you can lodge at, and a ferryboat crossing service from the Edo era has survived the ages. A Tokugawa family residence from the Meiji era is also one of Matsudo's beloved and important historical spots.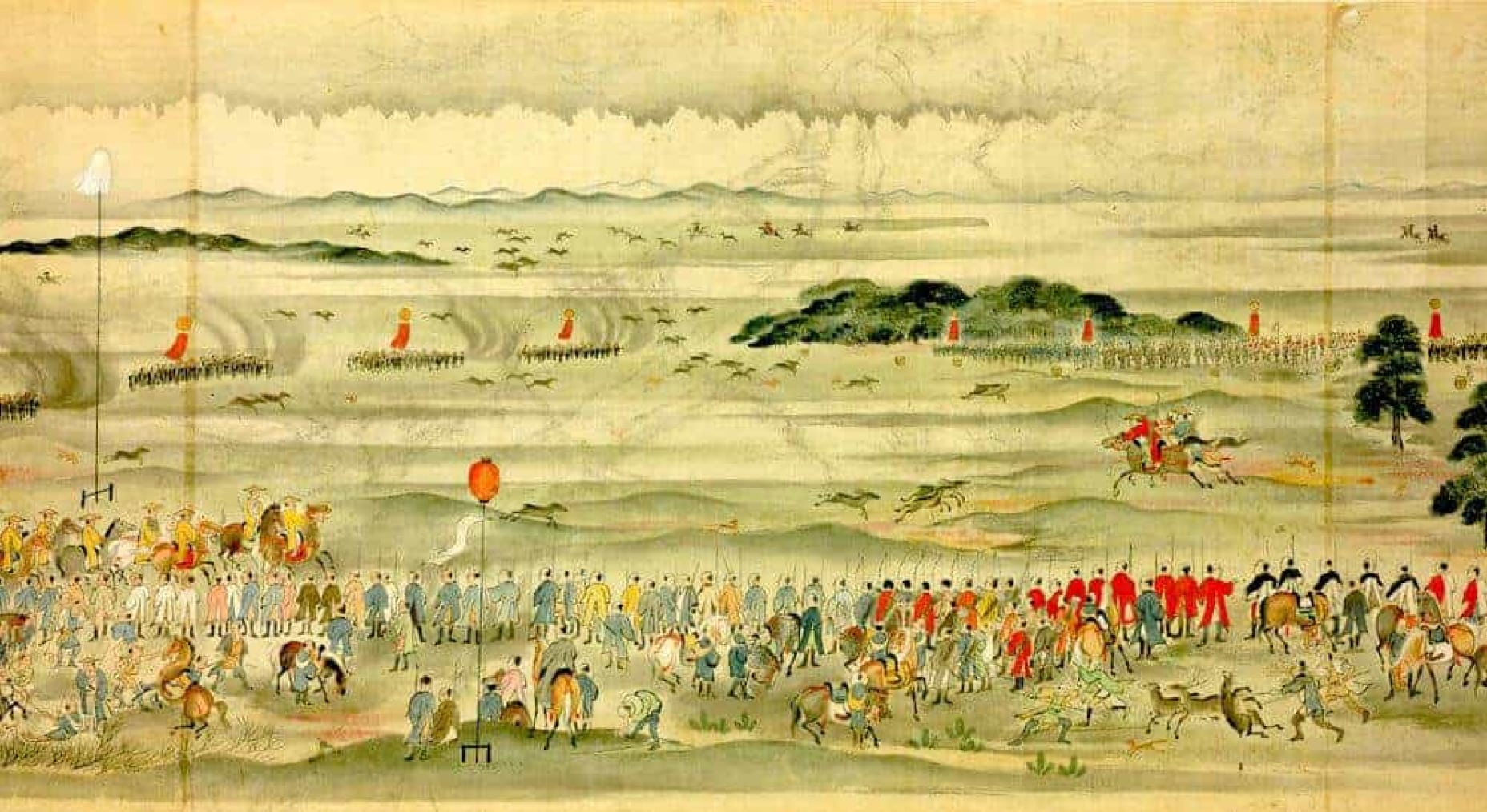 An Image of deer hunting in Edo period (now Koganemaki, Matsudo city, Chiba)
SHIGHT SEEING
Tojo-tei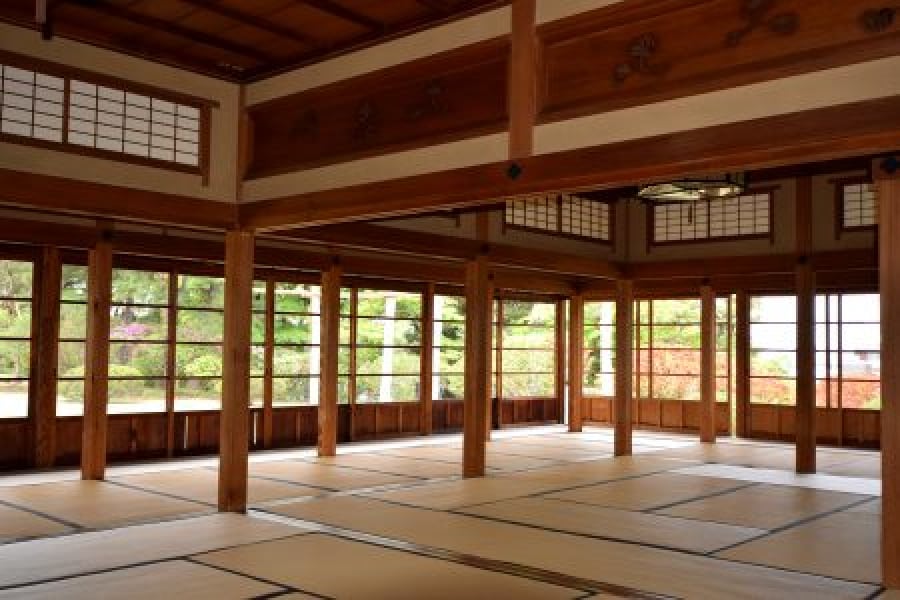 Tojo Historical Park is home to the famous Tojo-tei House. The house was built in 1884 as a holiday villa for Akitake Tokugawa (younger brother of the last shogun, Yoshinobu Tokugawa), and is the only Tokugawa family residence exhibited to the public in Japan. The house and garden have been preserved in their original style and are nationally recognized as sites of cultural importance and scenic beauty, respectively.
The adjoining Tojo Museum regularly hosts exhibitions pertaining to the Tokugawa family.
Tojo Historical Park is also an excellent place to enjoy Matsudo's seasonal flora, including plum flowers , cherry blossoms and azaleas. This beautiful place is also popular as a tourist spot.
More info(official page)
Hondoji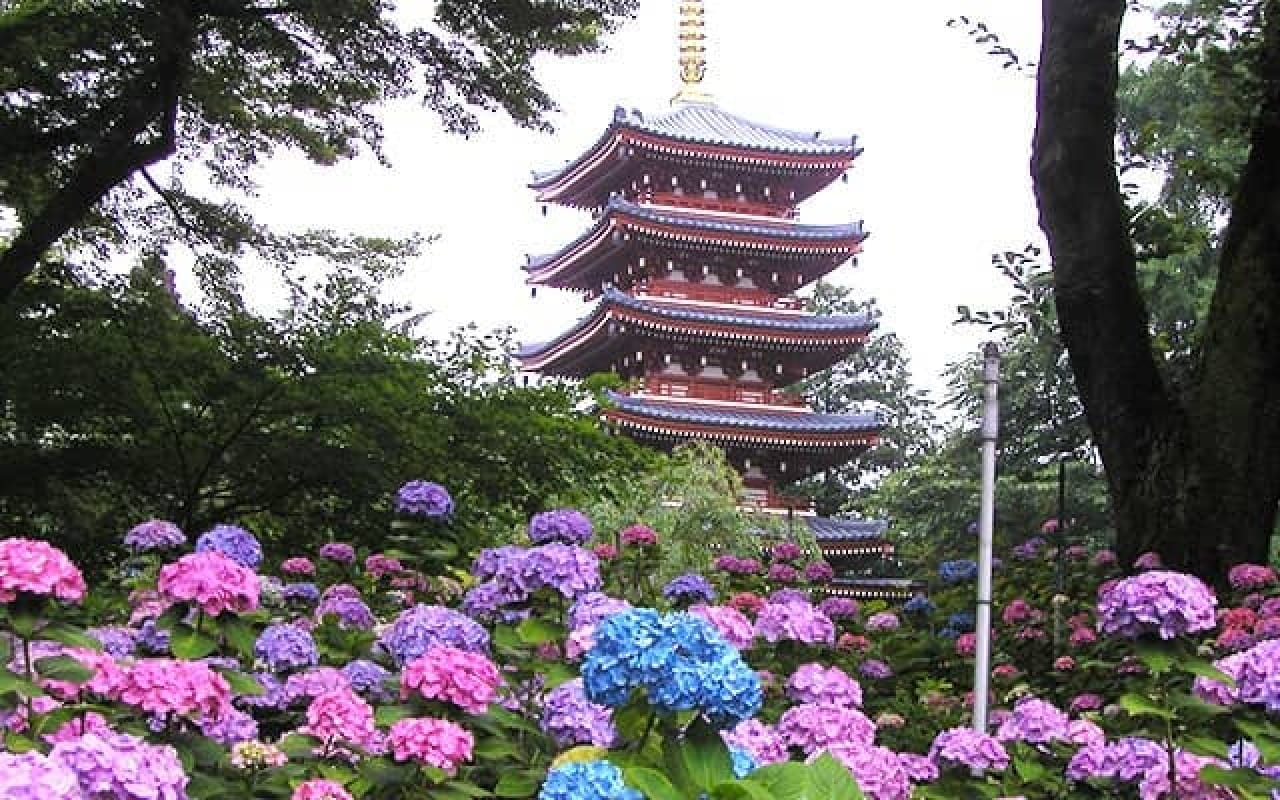 If you want to feel a traditional Japanese nature, Hondo-ji Temple is a perfect place to visit! It's one of the oldest temples in Matsudo, built in 1277 and also known as the 'Hydrangea Temple'. It is a popular local spot for enjoying the hydrangeas and irises that bloom during early summer. Visitors can also enjoy cherry blossoms in spring, and Japanese maple leaves in autumn. This place has a high reputation as a great phot spot.
Address:Hiraga 63
Opening hours:8:00am – 5:00pm (last entry 4:30pm)
Entry:Junior high school students and upper 500 yen (during peak season)
Yakiri no watashi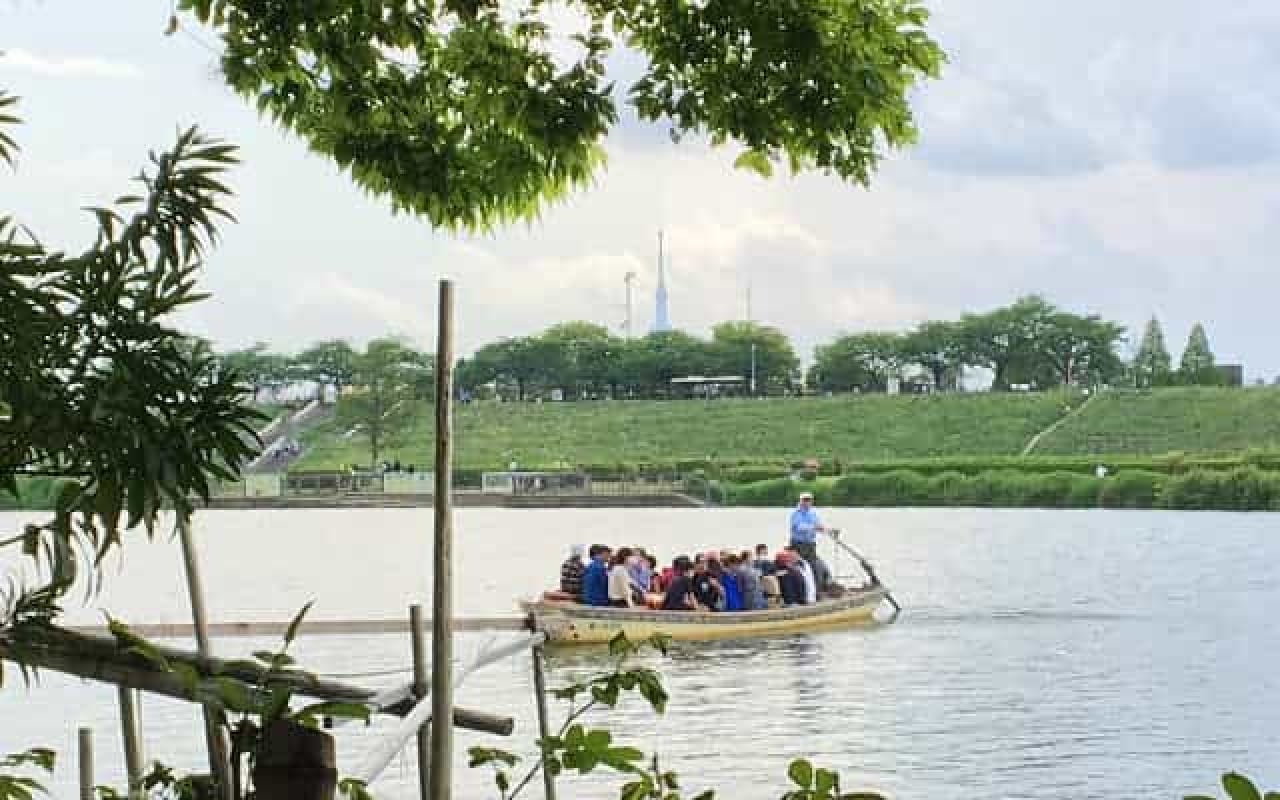 The 'Yakiri-no-watashi' ferryboat crossing was an important link between the Yakiri region and Tokyo's Shibamata during the Edo Period. It now operates solely as a tourist attraction, enabling visitors to ride a small boat across the Edo River. The area is most well-known as the setting for the famous novel, 'Nogiku no Haka', and its peaceful landscape enraptures all those who experience it.
Address:Shimo-Yakiri 1257
Open:Daily (weekends and public holidays only in winter) 10:00am – 4:00pm
Entry:Adults (middle school age and up) 200 yen , Children 100 yen
FOOD
Through its plentiful farms, fields, and orchards spread around Edo River, historically Matsudo has enriched the food culture as a whole. Matsudo is particularly well-known for its tasty pears, and was the birthplace of the Nijyu-seiki (20th Century) pear variety. Japanese long leeks are also one of Matsudo's specialties. Products that use local leeks, such as Yagiri green leeks, are plentiful. Being so close to Tokyo has allowed Matsudo to become a central social hub for the greater Kanto area, as evidenced by the many nationally-famous ramen shops that decorate this ramen hotspot. If you are a Ramen lover, it's definitely worth visiting Matsudo for its ramen. If noodles and pears aren't to your taste, you also can find a variety of other casual gourmet foods.
Pears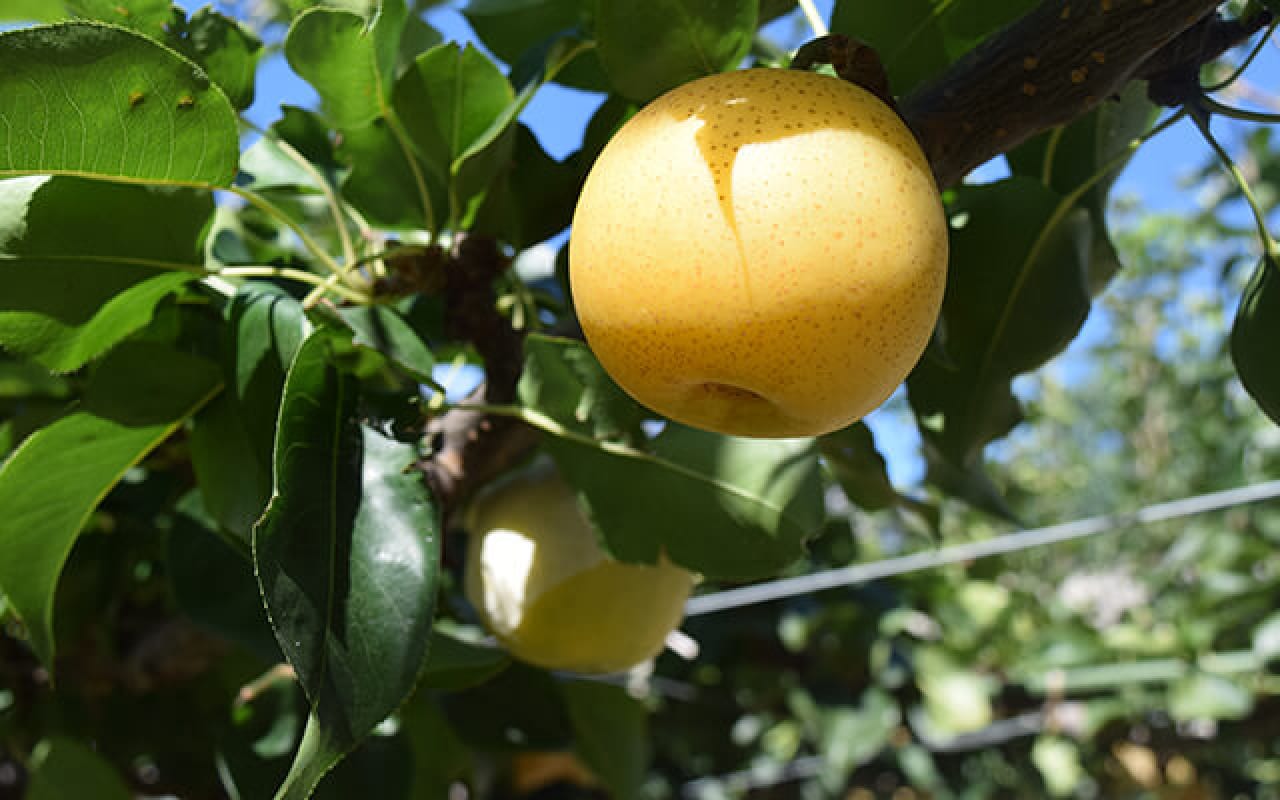 Locally-grown pears, picked right when they are ripe, are extremely delicious. Matsudo has many pear orchards and they each have many kinds of pears, depending on the harvest season (usually between early August and early October). In particular, the rare '20th Century' pear is Matsudo's indigenous variety and nowadays is hard to find. If you desire to try them, please contact us. During the harvest season, you can buy pears directly from orchards and taste the freshest pears imaginable! At some orchards, you can even enjoy picking your own pears. For more information, please visit the site below or contact us.
Pear Picking and Direct Sale
More info
Ramen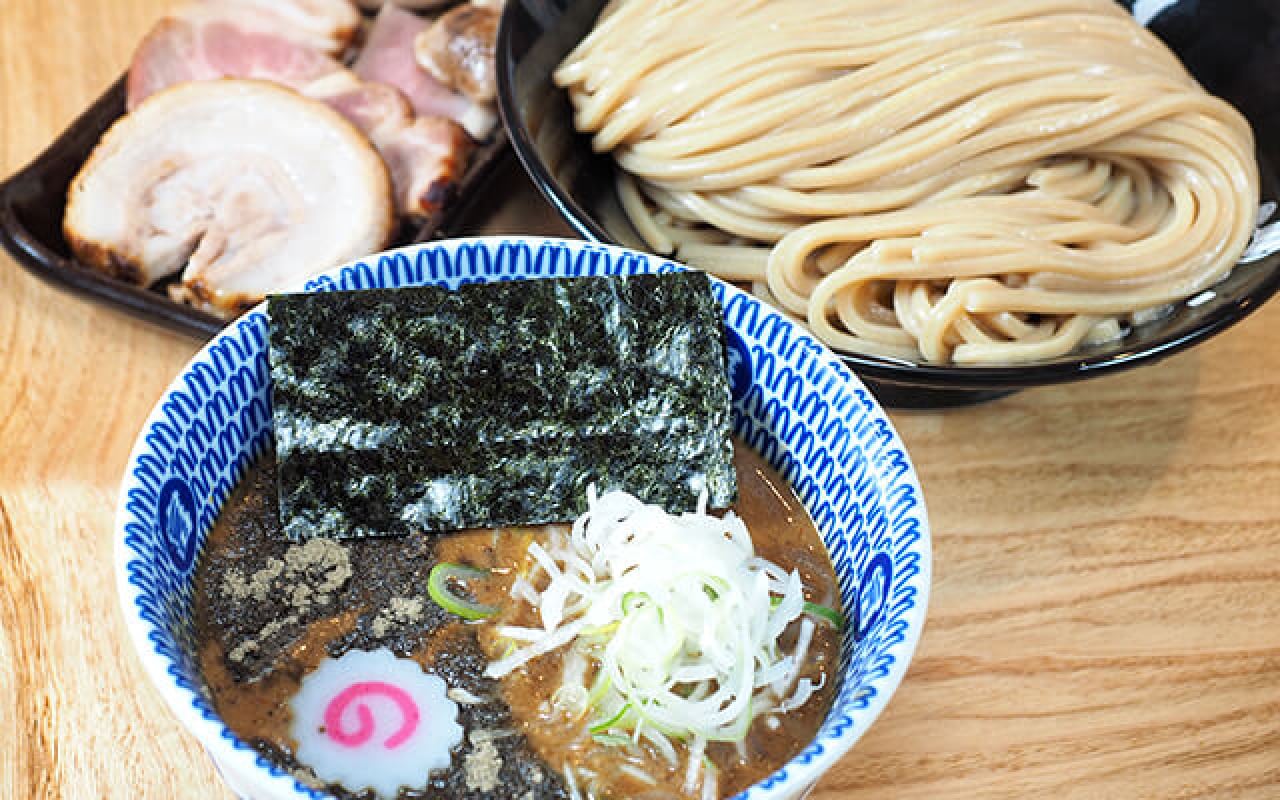 Ramen is one of Japanese people's soul foods. There are many ramen hotspots all over Japan, however none hold a candle to Matsudo – there is no shortage of types to try! It even has world-renowned dipping noodle ramen shops.
We are sure that you can find your favorite one! If you have no idea which shop you should try, please feel free to contact us! We are happy to help you finding a perfect one for you!
SAKURA
Cherry blossoms are the national flower of Japan, and the Japanese have been familiar with them since ancient times.
There are many places in the city of Matsudo where you can see cherry blossoms during the spring.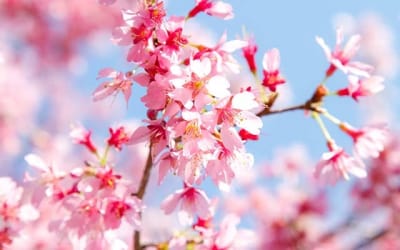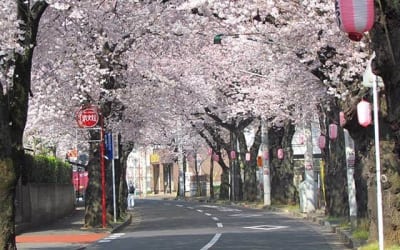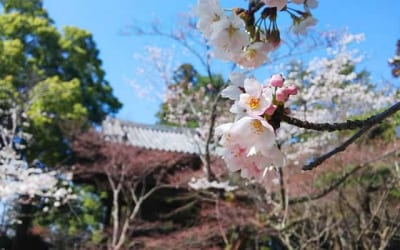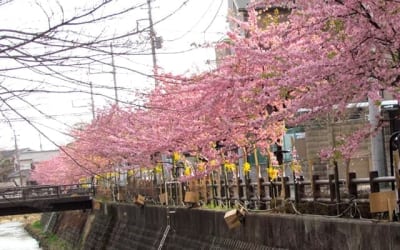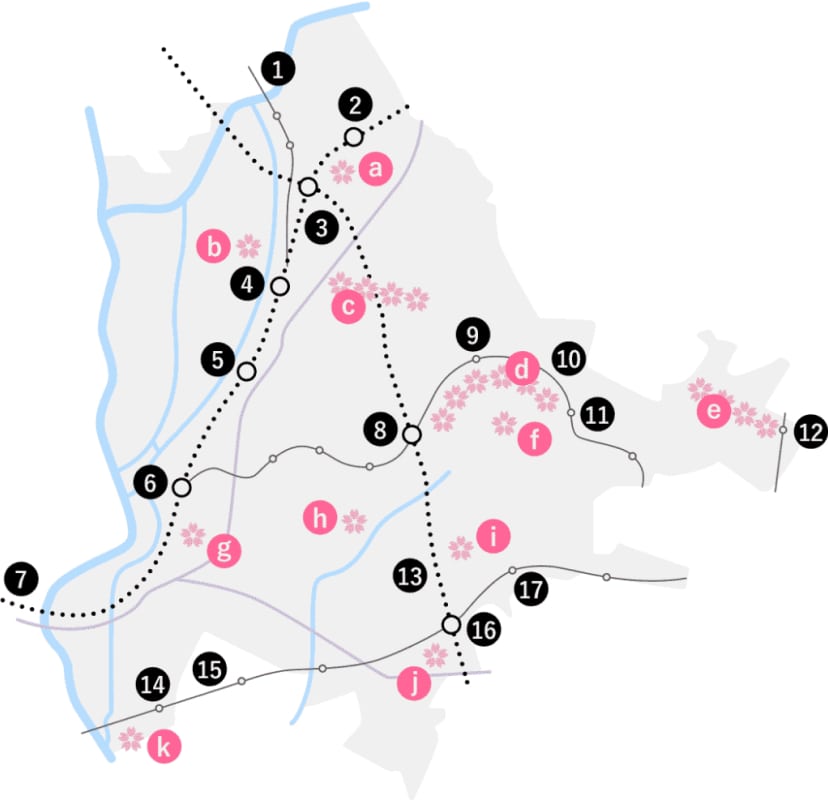 1) Ryutetsu-nagareyama Line
2)Kita-Kogane station
3) Shim-Matsudo station
4) Mabashi station
5) Kita-Matsudo station
6) Matsudo station
7) JR Joban Line
8) Yahashira station
9) Tokiwadaira station
10) Shinkeisei Line
11)Goko station
12) Mutsumi station
13) JR Musashino Line
14) Yakiri station
15) Hokuso Line
16) Higashi-Matsudo station
17) Matsuhidai station
CULTURE
Matsudo's arts and pop culture are unique and worth seeing. The city is surrounded by lot of nature, historical temples, quaint houses, and local trains. There is also an international program that invites foreign artists and provides them housing in exchange for decorating the city with their art. Matsudo also has museums dedicated to unique automobiles, space shuttles, and so on. Matsudo continuously holds events that foster new opportunities for cultural exchange, and seasonal events for residents and visitors alike to experience.
Forest and Park for the 21st Century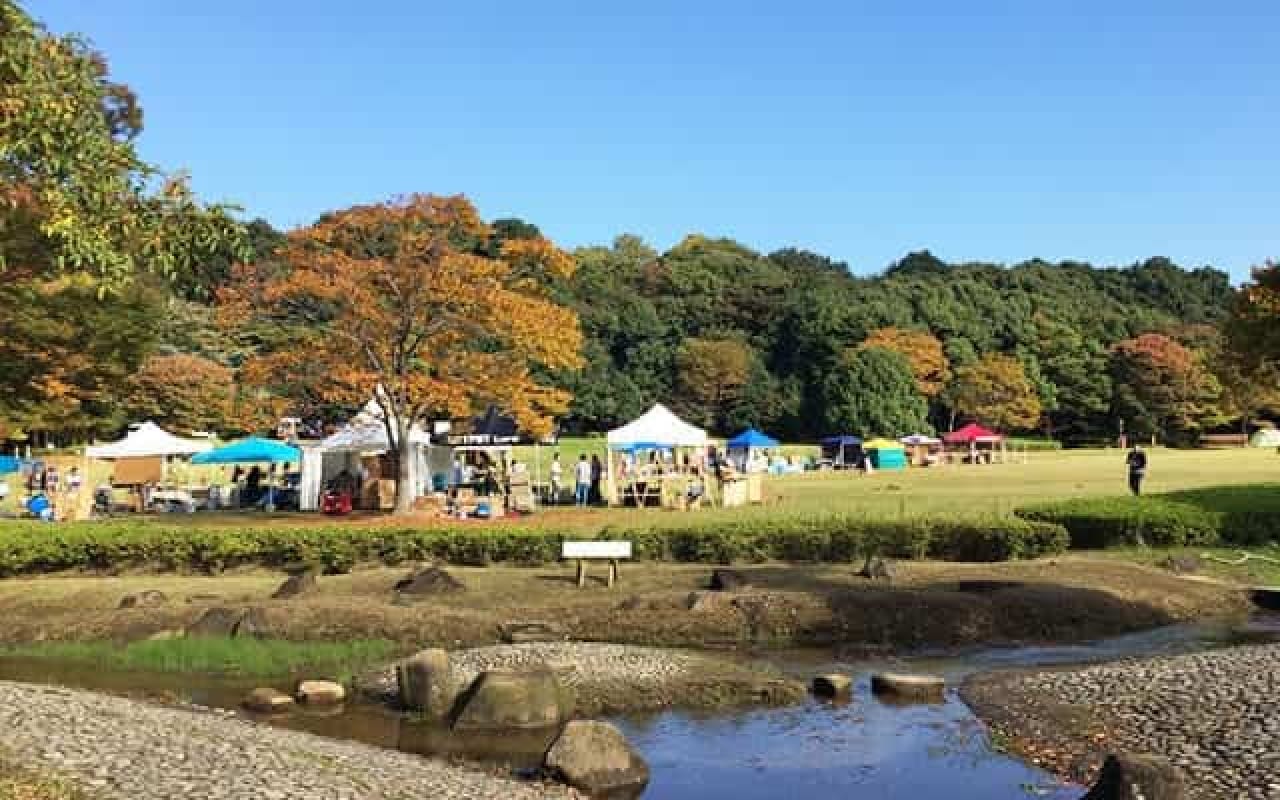 At 50.5 hectares, this park encompasses the largest green space in the city. This park is also used for some large city events. You can enjoy rolling lawns, forest spaces, bird watching spots, and barbeques at the park!
Children and adults and seniors alike can all definitely find something to appreciate here.
Address:Sendabori 671
Open:9:00am – 5:00pm
(with some seasonal variations)
Matsudo City Museum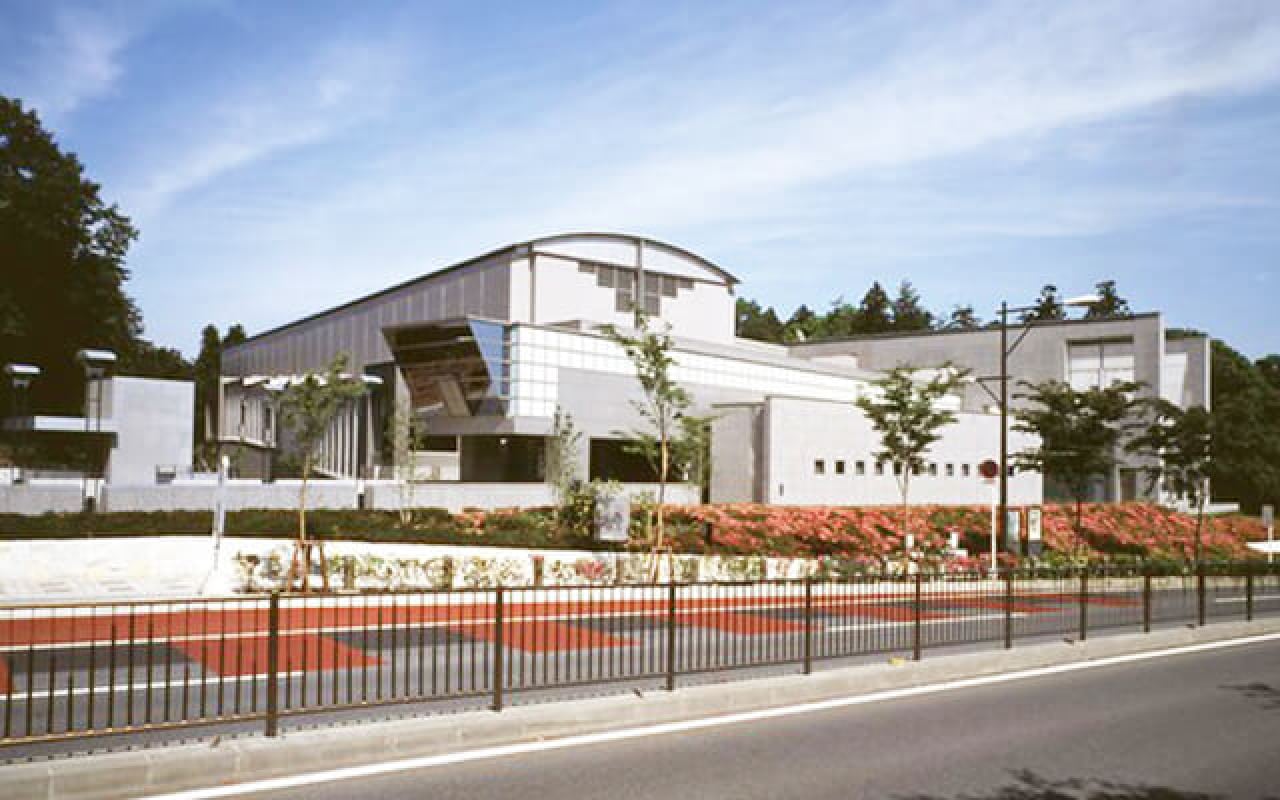 The Matsudo Museum provides a comprehensive overview of the city's history from the old stone age to the 1960s. There are also reconstructed houses, based on the excavated remains of 4500-year old villages, that you can enter and observe.
Address:Sendabori 671
Opening hours:9:30am – 5:00pm
Closed:Mondays
Admission:Adults 300yen, Students 150 yen, Middle school students or under FREE
Costume play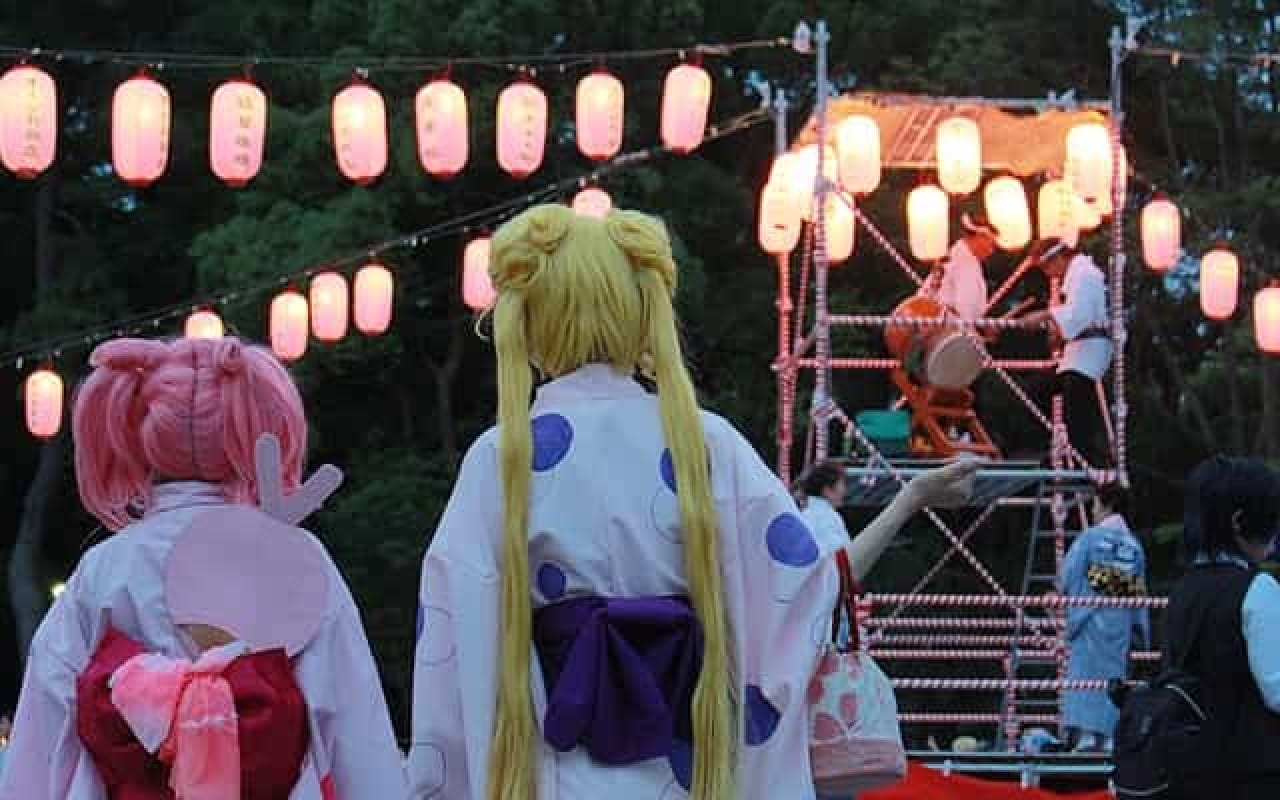 Matsudo holds cosplay events throughout the year in various unique venues, like on a path along the Saka River lined with Kawazu cherry blossoms (in Spring), at summer festivals and at Nagareyama Railway Line stations/trains!
During the events, you can enter various restaurants or facilities with your costume on! Yabashira is one of the main event locations; the nearby "Forest and Park for the 21st Century" Park uses "Cosplay-friendly" as its slogan!
Matsudo is always open to new cultures, while also allowing them to cherish the traditional ones should they so wish.